Africa's Automotive Market
Africa's automotive market is relatively small. In 2014, there were just over 42.5 million registered vehicles in use in Africa – a continent of approximately one billion people. As a result, the motorisation rate on the continent is only 44 vehicles per 1,000 inhabitants. This is far below the global average of 180 vehicles per 1,000 inhabitants, and lower than other developing regions such as Latin America (176) and Developing Asia, Oceania and the Middle East.
In 2015, approximately 1.55 million new vehicles were sold or registered across Africa. South Africa, Egypt, Algeria and Morocco – all countries with established and rapidly developing automotive industries – together accounted for more than 80% of total new vehicle sales in 2015. Based on recent sales trends, some sources estimate that Africa's passenger vehicle sales could reach up to 10 million units per annum within the next 15 years.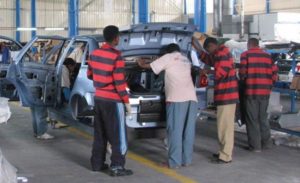 Between 2005 and 2015, registrations and sales of new vehicles (passenger and commercial combined) increased by a compound annual growth rateCAGR of 3.6% on the continent. While coming from a low base and although slightly higher than the global average of 3.5%, total sales growth in Africa was significantly slower than other emerging regions such as Asia and the Middle East (8.9%), and Latin America (4.2%).
Both the lower motorisation rate to date and new vehicle sales and registrations reflect the still relatively low purchasing power of African consumers relative to their emerging market peers. More importantly, the sizeable latent potential of the continent's automotive market in the long term. Due to limited disposable income and the high cost of new vehicles, second-hand vehicles dominate the continent's automotive retail sector. These are mainly imported. Based on in-market research, it is estimated that in the three major African countries like Ethiopia, Kenya, Nigeria at least 8 out of 10 imported vehicles are used vehicles.
This is a common trend across the region given that Africa imports four times more automotive products than it exports, with automotive imports worth US$49 billion in 2015 and exports worth only US$12 billion in 2015. Key sources of used vehicles are the United States (US), Europe and Japan. The Middle East serves as a notable transit route for vehicles into East Africa.
Imports of vehicles grew rapidly from 2003 onwards, coinciding with GDP per capita growth and a growing middle class on the continent. This was supported by high commodity prices at the time. South Africa dominates automotive trade on the continent, accounting for three-quarters of Africa's automotive exports and 15% of imports in 2015.
THE WAY FORWRD
Undoubtedly, Africa's automotive sector is the final frontier for automotive growth. The viability of automotive assembly or production in Africa is regarded as limited in the short term, but has largely untapped potential in the long term.
To date, new vehicle sales on the continent as well as the local production and assembly of vehicles have been limited by various factors such as a small market size, lower purchasing power, a less competitive operating environment and an insufficient policy environment. This has undermined the industry's ability to reap economies of scale and thus supply price competitive vehicles to domestic and regional markets.
To help unlock the markets of the countries evaluated, formalising and consolidating the automotive retail sector will be a priority in the short term. This will assist players across the automotive value chain to be closer to the consumer, at the same time educating the consumer about the benefits of new or certified pre-owned vehicles. It will also enable industry players to build local expertise and scalable capacity.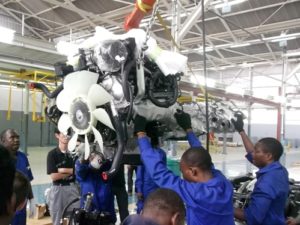 As economies of scale at an individual country level will be challenging to achieve in the short term, domestically created capacity could be further scaled. This should be achieved through an export-orientated focus of both building regional value chains around components and plugging the continent into the global automotive supply chain through cost-competitive production in the medium to long term.
This global value chain is already undergoing a shift, with two external mega trends underway that will help to unlock Africa's automotive potential.
Firstly, the strong growth of vehicle sales in emerging markets generally reflects the global shift of sales from developed, high-wage countries to emerging, low-wage countries. This shift of sales has been accompanied by the shift of production capacity to these growth markets, in order to respond to increasing pressure on margins. The relocation to low-wage emerging markets allowed automotive manufacturers to save on labour costs and to be closer to the end consumer. In order to reduce logistics costs and to ensure uninterrupted supply with parts and components, tier-1 suppliers are increasingly relocating to the vicinity of the automotive plants they supply.
While in 2002, seven out of 10 vehicles sold were in high-wage countries. Many expect this to reverse by 2023.
---
Contact To This Company