Ghana university launches solar powered 4×4
A vehicle that is powered by the sun, that is the latest invention by students of Ghana's Premier engineering university, the Kwame Nkrumah University of Science and Technology (KNUST) located in the resource rich Ashanti region.
The first version of the environmentally friendly automobile was outdoored recently at a graduation ceremony of the university. The invention of the 4×4 vehicle was in partnership with the Technical University of Munich.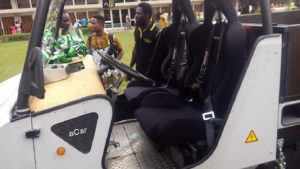 It was developed by the Departments of Mechanical Engineering and Physics, and is seen as a breakthrough for the West African nation as it explores ways to build a more robust automobile industry.
Most cars in the country are fuel based, either diesel or petrol run, a few others use Liquefied Petroleum Gas (LPG). Ghana discovered oil along its western coast but still imports refined fuel for industrial and commercial use.
The pickup-styled vehicle as displayed at the event seats two persons at a time. The first drive was taken by the chancellor of the university and powerful Ashanti king, Otumfuor Osei Tutu II and one of the guests who had graced the graduation ceremony.
The monarch drove it round a small field to much admiration of graduating students and other people who had gathered for the event. He went on to task the government to support the effort of the university to undertake more of such innovations.