'Made in Africa' cars enter the automotive market
In 2018, Africa is expected to register sales of new 2.1 million cars with major auto players such as Toyota, Tata Motors and General Motors GM -0.91% looking at the continent for growth opportunities. There are approximately 21.6 million passenger vehicles operating in Africa; making the continent's nearly 1.2 billion population a very attractive prospect for global automobile manufacturers to penetrate. Not to be left out of the lucrative market, African entrepreneurs are now entering the automobile industry; designing and developing vehicles specifically geared for the local market and local consumers but with global aspirations.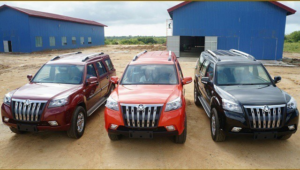 Sub-Saharan Africa is projected to remain one of the fastest growing regions in the world. While Africa's economy is soaring past most regions with an annual growth of about 5% due mainly to increased agriculture production, infrastructure investment including transportation, ports and energy as well as buoyant services led by tourism, telecommunications and financial services, the continent's middle class is expected to swell to approximately 300 million people. Additionally, the World Bank projects private consumption in the region to remain strong in 2018-19; particularly with the continent's burgeoning middle class looking to splurge on new passenger vehicles and for most, their first such purchase.
Here are three African automobile manufacturing companies that are developing "made in Africa" vehicles that look the most promising for the African consumer market;
Kiira Motors Corporation, Uganda
Originally developed by students from Uganda's Makerere University for a project headed by Massachusetts Institute of Technology (MIT), the sedan hybrid electric vehicle called the Kiira EV SMACK was designed for the region, local terrain and consumers' ability to afford the car. The five-seater sedan is powered by a rechargeable battery and also has an internal combustion engine-based generator which charges the battery. The first commercial vehicle from this line is expected to rollout in 2018
Innoson Vehicle Manufacturing Company, Nigeria
The domestic vehicle maker Innoson Vehicle Manufacturing Company has built on its success of manufacturing buses and trucks to launch a passenger car line comprised of a truck (IVM 1021A) and a Sports Utility Vehicle (IVM 6490A). According to the company website, the automobile company was commissioned by President Goodluck Jonathan and founded by Mr. Innocent Chukwuma.
Kantanka Automobile Company, Ghana
The Ghanaian based automobile company founded by Apostle Safo Kantanka, assembles its passenger vehicles (mainly SUVs and pickup trucks) at the company's manufacturing plant located in Gomoa Mpota in the central region of Ghana. The automobile company has reportedly pushed back commercial release of its models pending approval from the Ghana Standards Authority.
Low-cost cars in demand in Africa
Indian and Chinese auto firms offering low-cost models are expanding their African reach. India's Tata Motors, which is currently focusing particularly on the South African market, aims to quadruple its sales in the country by 2018 – both in terms of combined passenger vehicles and light commercial vehicles. It sold 6,500 units in 2012 but wants to bring this up to 30,000 by 2018. In order to achieve this, Tata plans to more than double its number of Associated Motor Holdings outlets from 48 to 100 in 2018. The company is due to diversify its product range in South Africa, introducing new models such as Tata Aria, Tata Prima and Tata Ultra Trucks.
At the same time, the Chinese automobile firm, Foton, has become the dominant Chinese car exporter to Africa. In 2015, Foton delivered 25,000 vehicles to the region – from cars to pick-up tricks.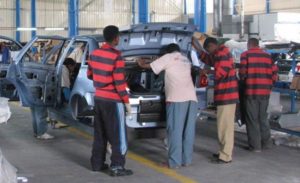 Although interest in Africa is rising, the current market figures are mixed. In Nigeria, Africa's most populous country, where 50,000 new vehicles enter the country every year, according to the Oxford Business Group, sales dipped by 4.5% in 2015. The negative trend was attributed to sectarian violence, flooding and a floundering economy. Analysts predict that Nigeria's auto market will recover strongly in 2017, with sales rising by 5.5%.
Ford also announced its intention to launch four new models in Nigeria – the Focus, Fusion, Escape and Ranger. Honda, which until recently has focused on the motorcycle market in Nigeria, has also announced that it plans to sell cars in the country.
In countries reaping the benefits of new-found mineral and resource wealth, demand for vehicles is robust. In Zambia, with its flourishing copper mining industry, the sale of new vehicles is predicted to double between 2016 and 2020. With the infrastructure sector in the country also growing, due to a $6.5bn investment programme, the demand for commercial vehicles is also set to grow. A similar trend marks the auto sector in Mozambique. The southern African country is thriving on the back of a coal boom and set to enjoy a new wave of investment due to the discovery of considerable natural gas reserves. An infrastructure boom in Mozambique will similarly drive up demand for commercial vehicles.
Trends are positive in stable African economies as well. The Kenya Motor Industry Association recorded an increase in new vehicle sales in 2015. In Uganda, the number of newly registered vehicles spiked over 30% year on year in the first 11 months of 2016. Commercial vehicles were at the centre of this positive growth, while new vehicles sales are predicted to increase by 14% between 2016 and 2021.
On a continent where disposable income, although rising, remains constrained, the used car market will continue to exert considerable pressure on the new vehicles market. Nigeria imports around 300,000 second-hand vehicles annually. According to the Japan Used Motor Vehicle Exporters Association, Japan alone exported 26,000 'pre-loved' cars to the country in 2017.
---
Contact To This Company