Nigeria's Automotive Market
With a population of close to 180 million and a GDP of US$493 billion in 2015, Nigeria is the most populous country with the largest economy in Africa. Despite the current economic challenges facing the country due to low oil prices and a weakened currency, Nigeria still reveals robust economic growth of 2-4% in the medium term.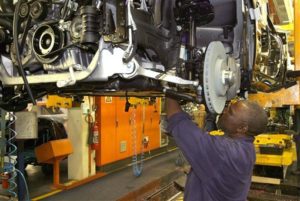 Owing to the lack of domestic vehicle production, Nigeria is highly dependent on imports to meet its domestic demand. In 2014, passenger vehicles constituted the second-largest import category after petroleum oils or bituminous minerals. Overall automotive related imports stood at US$6.9 billion (passenger vehicle imports: US$2.9 billion) accounting for approximately 11.5% of Nigeria's total imports. While auto imports recorded rapid growth between 2004 and 2014, the current slowdown in the economy and the recent introduction of high import duties on vehicles linked to the new automotive policy has led to approximately a two-third contraction in vehicle imports according to industry players.
Second-hand vehicles dominate the import market. It is estimated that approximately 10% of vehicles imported to Nigeria are brand new. A large share of second-hand vehicles are imported from the US, given that vehicle specifications in this market are more in line with the demand and taste of Nigerian consumers, which is not always met by entry-level models from Europe.
Before the hike of import duties on second-hand vehicles, Nigeria imported more than 100,000 cars per year from the the US. In 2015, imports from the US had plummeted to less than 40,000 units. In addition to direct shipments to Nigeria, the Port of Cotonou in neighbouring Benin is a key transit point for second-hand vehicles destined for the Nigerian market. It is estimated that 85% of Benin's used vehicle imports end up in Nigeria. In 2013, the European Union (EU) and the US exported approximately 300,000 cars to Benin. Based on the import figures for Benin, an additional 255,000 used cars from the EU and the US entered Nigeria via Benin.
There is no culture of maintenance in Nigeria – people drive their cars until they break down and then fix them.