Sahni Auto Spare Parts Co. (LLC), Dubai
Founded in 1990, Sahni Auto Spare Parts Company (LLC) has become one of the leading suppliers of all kinds of tyres, tubes and batteries in the United Arab Emirates. The company is the sole agent for leading tyre brands like Silver Stone, Corsa Strada, Silver Star, Imperium, Triangle, Spectra, Sailun, Al Tura, Bridgestone, Stallion, Sonar and Singa Tyre.

Sahni Auto Spare Parts Company also imports, stocks and distributes a wide range of tyres from leading manufacturers in Indonesia, Malaysia, United States of America and China. In addition, the company is also an authorized distributor for Imperium, Silverstar, Silverstone, Corsa Strada, Singa Tyres and Singa Batteries. In fact, Sahni Auto Spare Parts Company is one of the largest importers of Korean batteries in the United Arab Emirates.
Having already established itself as a leading supplier of tyres and batteries, the company has diversified into other allied fields and has recently launched Singa Oil, a high quality brand of automobile lubricants in partnership with Singa Tyres of Indonesia. The comprehensive range of lubricants manufactured under the Singa Oil brand have been gaining increasing popularity in local, regional and international markets in recent years.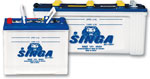 With over 25 years of experience in the field of automobile spare parts, Sahni Auto Spare Parts Company (LLC) has the requisite wherewithal to handle all kinds of orders at a short notice. The company maintains a large stock of all its products in its state-of-the-art warehousing facilities in Dubai and is able to execute all orders at a short notice.
Being an authorised distributor of internationally-renowned brands gives the company an advantage over its competitors as it is able to offer competitive prices to its customers. As a result, Sahni Auto Spare Parts Company has been successful in capturing a

 sizable share of the re-export markets and has been exporting tyres, tubes, batteries and lubricants to many countries on a regular basis.
The company has an excellent track record as a reliable, trustworthy and efficient supplier and is gearing to penetrate new and emerging markets in Africa by forming longterm business alliances with importers, stockists and wholesalers across the world.
The company is looking for agents and distributors for tyres, batteries and lubricants to further expand its customer base.
[spacer icon="fa-envelope-o" style="1″]
For further information contact:
Sahni Auto Spare Parts Co. (LLC)
P.O. Box 21517, Dubai,
United Arab Emirates
---
Contact To This Company